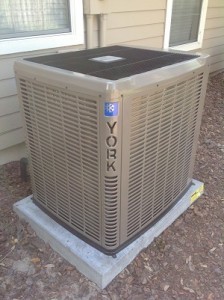 Warm weather settles in early during the year for Florida—if it can ever be considered to have "gone away" in the first place. If you're looking to change your air conditioning in Gainesville, FL because you have an ancient money-guzzling cooling system, early spring is the best time to schedule the work. Speak to our technicians, and they'll help you get started finding the right new unit with no rush.
If the money you've spent on cooling your house the past few years has irritated you, then we'll guide you toward an AC unit with better efficiency. Below we'll look at a bit more at the quest for an energy-efficient choice.
Basic Energy Efficiency Facts
Here's a simple fact: if your current AC is more than 15 years old, it probably has a lower energy efficiency rating than the baseline current models. Government standards for efficiency ratings have risen, and mid-efficiency air conditioners are better at cost-effective operation. You'll end up saving money on a new air conditioning installation even if you don't opt for a specifically high-efficiency unit.
The key stat to look at is SEER, seasonal energy efficiency ratio. The higher this number, the better the AC unit converts electrical power to cooling power. Your old AC may have a SEER of 13, but new models must be at least 15 SEER—you're already looking at an improvement when you install an ENERGY STAR-certified model.
The Variable-Speed Fan
Now let's turn to actual high-efficiency units, which can have SEER in the 20s. A variable-speed fan air conditioner is a popular type of high-efficiency AC. The difference between this model and a standard one is the variable-speed air conditioner can run its blower fan at lower capacity. It's not just "on" or "off." You won't need to worry about adjusting the blower fan speed. It's automatic, and you can expect the blower to run at lower capacity 60% of the time, which will make a big difference in cost.
The Multi-Stage Compressor
You often find variable-speed fans with multi-stage compressors. The concept is similar: the compressor, the heart of the air conditioner, can work at lower power when the house needs less cooling. This is beneficial not only for cooling costs, it extends the service life of the compressor and reduces the need for repairs. There is also improved compressor technology, like scroll compressors, that are more efficient at their job.
The Ductless Mini Split Option
Finally, keep your mind open to making a possible large shift in how you cool your house. If you use window ACs rather than a central air conditioner because your house has no ducts, a ductless system is ideal. Along with other benefits, ductless mini split heat pumps use less energy to run, and you only need to cool the rooms that need it. Because these systems are heat pumps, installation takes care of your heating needs as well.
We're happy to talk about the choices available for your home's cooling—we'll find the best AC for your needs and budget.
Serving the Communities of North Central Florida since 1998: Call on [(site_name)] to learn about your new AC installation options.