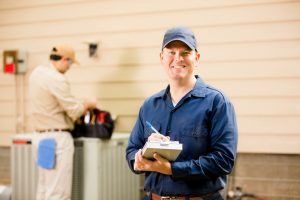 Spring arrives officially next month. And in Florida, it's already unofficially here. Time to prepare your home's central air conditioner for another sweltering summer slam. How do you do that? Call your reliable professional HVAC technician (spoilers: that's us) and tell them you want a pre-summer AC tune-up and inspection.
There are many reasons for pre-season tune-ups, and we've picked the five biggest. So put your hands together, we're counting down…
The Top 5 Reasons to Schedule Spring AC Maintenance!
Number Five – Lower Heating and Cooling Costs
When you have an air conditioner in peak operating condition thanks to professional service, the AC consumes less energy. The accumulation of dirt and wear forces an air conditioner to drain excess power, and that means excess bills. Routine maintenance can translate into $200 in annual savings.
Number Four – The Warranty Stays in Force
A warranty is an essential protection for a consumer in case they have a defective product. If an air conditioner leaves the factory with a fault (and about 2% do), it should not be your responsibility to pay to repair the AC or replace it when it fails early. Most warranties cover parts and labor for 10 years—but the air conditioner must have annual maintenance service to keep the warranty valid.
Number Three – Fewer Repairs
Any well-cared for piece of equipment has a lower chance of needing repairs. In the case of a central air conditioner, proper care through professional maintenance prevents approximately 85% of repairs. When you add up the cost of those repairs, you'll see how much maintenance saves on service calls alone. And this isn't even considering the interruptions in cool comfort that comes along with repairs.
Number Two – Equipment With a Long Service Life
An air conditioner is designed to last from 10 to 15 years. It's not difficult to get an AC to the outer end of that range—it only requires repairs done promptly when needed and regular maintenance. An air conditioner without maintenance may only last around 8 years. An early replacement for a cooling system is expensive, and routine inspections and tune-ups help stop that from happening.
Number One – Peace of Mind in the Heat of Florida
The best reason to have professional spring maintenance for your AC is that it lowers the chance of the cooling system breaking down when you need it the most. On a 90°F+ day, you don't want to fret about your air conditioner failing—possibly for good! Pre-season tune-ups are the best "insurance policy" you have against the summer heat of Florida trapping you and your family in an accidental sauna.
Sign Up for Our Energy Service Agreement.
Touchstone Heating & Air is the right Gainesville, FL, HVAC contractor to handle your air conditioning inspection and tune-ups. Our Energy Savings Agreement provides you with precision tune-ups and cleanings twice a year. (What's the second one for? Your heating system.) You'll receive perks as well: priority scheduling, waived service call fee, and a 20% discount on repairs.
[(site_name)] has served the Communities of North Central Florida since 1998. Call to sign up for pre-season AC maintenance.