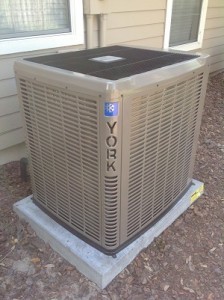 We know that it can be frustrating to find out your air conditioning system needs replacement. It feels like you haven't had your system for that long, after all (although you may not remember the exact date). In our area, air conditioning systems fail even sooner than in other parts of the country. So when you set out to purchase a new air conditioner, you have one big question: how long will this one last?
It Depends
It's an answer we hate to have to give, but it's true! We cannot tell you with certainty how long your air conditioning system will last because, well, it depends! There is always the possibility of a weather-related emergency that forces an air conditioner to fail much sooner than it should. It's also possible that an early system malfunction is due to manufacturer error, in which case you should be eligible for an exchange (assuming your warranty is valid).
Barring these two incidences, it is still difficult to say how long an air conditioner will last. We can tell you that the average lifespan for an air conditioning system is about 10-15 years, but your system can last longer or for a shorter period depending on several factors, such as those we'll discuss today.
Power Surges
Maintenance
Installation
Power Surges
One thing that can severely affect the lifespan of an air conditioner is a power surge. While many people picture a power surge as something that can take out a large appliance all at once, the truth is that most surges are small, sending surge after surge to a system until it shuts down sooner than it should. Whole-house surge protection helps to protect your AC equipment and a variety of other systems in the home.
Maintenance
The level of maintenance your air conditioning system receives can make or break your system. Taking excellent care of an air conditioning system means doing the following.
Scheduling routine maintenance – Professional AC maintenance means tuning up your air conditioner each year, preferably during mild weather. This gives a technician the chance to inspect the system and clean and adjust some components before it gets hot.
Changing the air filter – Yes, something as small as an air filter can have a major effect on how smoothly your system runs and how long it lasts. When a filter is dirty, it can clog up and stop air from flowing throughout the home, which overworks the air conditioner.
Making repairs on time – It's so important to repair an air conditioner at the first sign of trouble, so it does not worsen and lead to a system breakdown.
If you do all of these things regularly, if you change your filter each month, schedule routine maintenance annually, and call for repairs as soon as you notice a problem, you can expect your air conditioner to last for longer than your neighbors'. Otherwise, you may be faced with many repairs throughout the system's life.
Installation
Finally, something we see all too common is an air conditioner replaced far sooner than expected all due to a problem with the initial installation. Improper installation can lead to electrical problems like "short cycling," in which the system runs frequently in short bursts, which wears down components.
Find an experienced air conditioner installer in the first place so this will never be a concern. You can expect a properly sized, installed, and maintained air conditioner to come closer to that 15 year average.
Get help with your air conditioning in Alachua, FL from the team at Touchstone Heating & Air Inc. Contact us now!