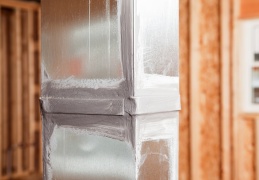 Leaks in the air ducts of a home's ventilation system are a major problem. It's easy to overlook how much of a problem because ductwork is purposely hidden from sight in a home behind walls and in the attic. But if you have leaky air ducts, they'll cost you in money, comfort, and even health.
The solution to leaky ducts is to call us to schedule duct services in Madison, FL. We'll test the ducts to determine the level of air leakage and then seal up all the leaks, restoring the ventilation system to airtight condition once more.
To call us for duct services, you first have to know there's a problem. How can you do that when you can't see most of the ductwork? There are several signs that can warn you of these air leaks listed below.
High heating and cooling costs
Changes in the cost to keep your home comfortable with a forced-air system are often warnings of something wrong. Sometimes the problem is with the AC or the heater. But air leaks can create a significant loss of heated and cooled air moving through the ductwork, and that's air you've already paid to heat or cool. Basically, money is disappearing right through those air leaks. Since up to 30% of the air in a ventilation system can escape through leaks, it can cause a major rise in your utility bills. If you can't account for this rise in comfort costs, you may need to schedule duct testing.
Moldy and dusty odors from the vents
The air leaks in vents will allow the stale, dusty, and sometimes moldy air from closed-off parts of the house to infiltrate the airflow from the HVAC system. Any weird odors from the vents are a cause for concern, so have technicians check this out right away. They may perform duct testing if they suspect that air leaks are the cause.
Uneven heating and cooling
As heated and cool air escapes through leaks, it will leave some areas of the house without the expected amount of comfort. Cold spots in winter and hot spots in summer indicate trouble within the HVAC system—and duct leaks are one of the primary suspects.
Short-cycling or other odd HVAC behavior
Loss of air through leaks can cause an HVAC system to work abnormally. One common problem is short-cycling, where the heater or AC starts to run in briefer cycles and turns on and off more than five times per hour. On the other extreme, air leaks can cause an HVAC system to run for longer and longer. Both problems need investigation as soon as possible.
Schedule regular duct testing
This isn't a warning sign you have leaks—it's simply good advice for prevention. We recommend our customers have their ductwork tested every few years to catch any indications of problems. If you've already lived in your home for five years, then we advise you have duct testing done as soon as possible. After that, testing every three years will help you keep pace with potential damage to the ductwork.
Call Touchstone Heating and Air 24/7 for exceptional customer service! Serving the communities of North Central Florida since 1998.