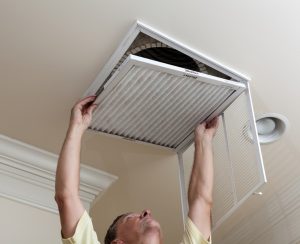 Regular maintenance, as we've discussed before, is key to keeping your air conditioner running smoothly for longer. This is something that should always be handled by a professional technician, someone who knows the ins and outs of central AC systems and can spot AC repairs sooner. Regular tune-ups involve many steps, but not every step of air conditioning maintenance can (or should) be handled by the pros.
Completing this one simple step, once a month at least, can make your air conditioner run better, last longer, and use less energy—meaning that overall, you save!
Changing the Air Filter Is Simple
Changing your air filter is a simple task that doesn't require expertise, skill, or a lot of money. In fact, it can save you money—but we'll get back to that later. Here's what you should know.
Location
The air filter should be located on or near the air conditioner or furnace. You may find it in a slot on the return duct of the side or top of the unit, or it may be behind a return air grille in your home (on the wall or ceiling). There are typically arrows on a filter that help you align the new filter into place.
Selecting the Filter
Choosing the replacement filter simply means finding one that is rated for your air conditioner. A standard air filter should do just fine, provided it is about the same size as your existing filter.
Reusable Filters
Reusable air filters need to be cleaned, rather than replaced. All you need is a vacuum and a garden hose. Vacuum out lose debris, spray with a sink faucet or hose, and then—as the most important step—make sure the filter is completely dry before returning it to its place. (You don't want to risk mold!)
Here's How a Dirty Filter Hurts Your Air Conditioner
Air conditioners' lifespans are shortened by excessive wear and tear that goes beyond the usual. And a dirty filter that is left in an air conditioner for too long helps to contribute to this.
The filter should be able to let air through, as the blower fan needs to suck in air in order to provide air to the home. Of course, it should also block allergens and particles from getting through. But when it's clogged up with dirt, in not only blocks particulate, it blocks airflow too!
Your air conditioner needs a certain amount of airflow in order to function in the way it was designed. So, when it's all clogged up with dirt and debris, you interfere with the way it functions. The problems that result may start out minor, but over time, it can turn into something serious.
Some examples of what happens when a dirty filter results in a lack of airflow:
A frozen indoor evaporator coil (always a bad sign)
Lack of airflow and discomfort
High energy bills
Overworked motors
A premature system breakdown
A dirty filter means trouble, so change your air filter each month to prevent a major repair! And for more air conditioning services in Macclenny, FL, contact Touchstone Heating & Air Inc.