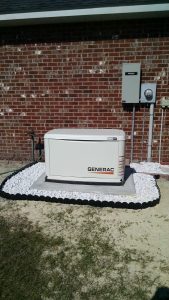 Think of the last time you dealt with a power outage. It was likely a major hassle, something that made it difficult to get through the day or night. In the worst-case scenario, you may have had to leave home in order to go somewhere with air conditioning or the ability to run certain devices, like lifesaving medical equipment.
When you have a generator installed on your property, you'll never have to worry about this again (provided it's properly maintained and replaced when needed). Whole-house generators protect your home and your family when a storm or disaster makes its way to your town. Learn more about whole-house generators, portable generators, and more in today's guide.
Types of Generators
There are a couple of generator types you might consider when arming your home against a blackout. First, there's the portable generator, ideal for camping cookouts and other outdoor activities, but feasible for working in the home as well.
Because a portable generator emits toxic gases, you cannot keep it in the home, but you can run power cords to the outdoors (as long as you do so safely). However, you will need to refill the fuel, which may run out when you need it most. And it can only power a couple of systems in the home at a time.
That's why we recommend whole-house generators—ones that can power the entire home all at once. And with an automatic standby generator, you won't have to lift a finger.
What's an Automatic Standby Generator?
An automatic standby generator constantly monitors the electricity flowing through your home. The automatic transfer switch is hooked up to your home's wiring in order to monitor this. When a lack of current is detected, the automatic transfer switch can transfer your home over to natural gas power, so that all of the appliances in the home are up and running once more.
This includes not just the lights and an appliance or two, but also the refrigerator, air conditioner, and so much more. All in all, you'll save money by avoiding the need to spend on things like…
Spoiled food
Hotel costs
The gas to leave town
Broken electronics
Flood damage repair (in case of failure of equipment like sump pumps)
In case of a hurricane, you may need to leave your home anyway. However, when you return, a generator may be able to provide the power necessary to continue providing you with what you need as you assess damage and get back on track.
Our Recommendations
It's important to get the generator that is most compatible with your home. That means one that is rated to handle the amount of voltage your home needs. In addition, you'll have to consider fuel sources if you're in a home that does not have access to the natural gas lines.
That's why you should call in technicians with experience installing and servicing automatic standby generators. It is certainly not an installation you can handle on your own. You'll also require regular maintenance if you want to be sure it will work how you need it, when you need it.
[(site_name)] installs and services generators and air conditioning systems in Gainesville, FL. Our hearts go out to all affected by Hurricane Irma.