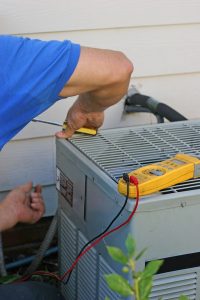 Most HVAC contractors recommend their customers schedule maintenance for their air conditioning systems during the spring. This fits the maintenance in at an ideal time, when the weather is starting to warm up but isn't yet warm enough to make an AC necessary. HVAC contractors are less busy in this period, making scheduling simple.
The situation is a bit different in Florida. The official start of spring isn't until the third week of March, but our weather can warm up much faster with higher humidity. It's a good idea to be prepped for hot conditions starting in April.
So if you're already thinking about arranging for AC maintenance here in late February—that's good! We think it's best to arrange for your regular maintenance before the rush of other homeowners who realize the weather is starting to turn hot.
Air Conditioning Maintenance Is Vital Each Year in Florida
Unfortunately, many homeowners don't think about maintenance ever. Since you're on this page, we'll assume you know maintenance is important and are at least thinking about it. But you may not be aware of how important annual spring cooling system maintenance is. HVAC contractors all across the country advise their customers to schedule to have it done annually, but it's critical in Florida.
The reason is the amount of work a home's AC does each year in our weather. We have long summer seasons with high heat, and even during spring and fall we'll have days when cooling is necessary. All this work puts extra stress on an air conditioner that it wouldn't experience in a cooler climate. Letting an air conditioner miss a year of maintenance means the wear of summer basically doubles on it. The chance of a breakdown during one of the hottest days of the year increases, as does the chance of smaller but still inconvenient repair needs. An air conditioner without routine maintenance will also become less efficient, draining extra energy. It may even harm your indoor air quality because a dusty AC will blow around more dust through a house.
We're Ready to Inspect and Tune-Up Your AC
To schedule air conditioning maintenance in Gainesville, FL and elsewhere in North Central Florida, sign up for our Energy Saving Agreement. When you sign up, you'll receive two precision tune-ups and cleanings for your HVAC system each year. (The second tune-up is for your heating system in the fall; yes, you need heating maintenance annually as well.) Each spring, our technicians will go over your AC to locate any place where it may have repair needs, and then take care of jobs such as cleaning the refrigerant coils, changing the filter, lubricating the motors and other moving parts, checking fuses and breakers, measuring voltage, and more.
In addition, you'll receive perks as part of the agreement: a 20% discount on repairs, no service call fees, and you'll have priority service if your cooling system ever needs emergency service.
Schedule AC maintenance service early with a call to Touchstone Heating & Air Inc. We've served the communities of North Central Florida since 1998.