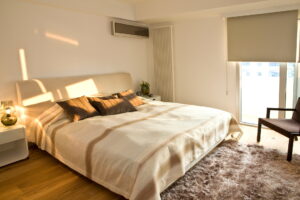 If you already have a ductless mini split air conditioner and it's time for a replacement, you may be wondering what to expect. A ductless AC is unique from any other type of air conditioning system and so is the installation process.
Although without the attached ductwork, it may be surprisingly simpler. Give our team a call when you're ready to make the investment in a ductless AC replacement in Starke, FL. You can also keep reading to learn more about ductless AC replacement installation and what to expect.
Ductless AC Replacement Options
First it's important to understand how a ductless mini split replacement can be different than a central air conditioner replacement. Your ductless mini split air conditioner has several units around your home in various rooms or zones. If you have a single unit that stops working sooner than others, you can replace it without replacing the existing units that are still working great.
Keep in mind that you do want to check your manufacturer's warranty to make sure that this is an acceptable step. Some warranties require that your replace the entire network at once because newer units may not be compatible with older systems. For example, you wouldn't want to replace the outdoor unit alone without also replacing all of the indoor units at the same time.
Timeframe for Installation
Perhaps the greatest positive of a ductless mini split installation is the shorter timeframe. A central air conditioner can take a full day to install. A ductless mini split only takes between one and six hours, depending on how many individual units you have. Fewer units may take less than a few hours. This is because ductless mini split units are complete all-in-one systems that require less manual work to connect them for use.
Ductless AC Installation Steps
The first step to installation a new ductless unit is choosing placement. If you were happy with the current placement of your ductless air conditioner, you can maintain it. If not, this is an opportunity to move your ductless unit to a new location. Once you have a spot, it's time to install the wall mount which can weigh as much as 50 pounds. It's crucial that we ensure this mount is secured into the studs of your walls.
After that, we drill into your walls to place the set of lines that runs from your ductless AC to the outdoor portion of the unit. It takes at least two people to complete this step – one feeds the line from the inside of your home while another person helps the lines along and then pulls them out and connects them to the outdoor unit.
Next it's time to place the air handler on the wall mount and connect all of the lines. Then we can finish connecting everything to the outdoor portion of the unit and ensure all of the refrigerant and drain lines are secure. You can repeat these steps to install each additional ductless mini split unit in the various rooms of your home. If you need to add or take away units based on the previous layout, we can make those changes during installation.
Call Touchstone Heating and Air 24/7 for exceptional customer service! Serving the communities of North Central Florida since 1998.