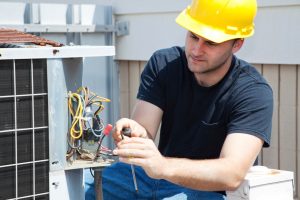 Everyone wants to get the most years of service out of their climate control systems as possible. These are big investments, after all, and replacing them after only a few years would be quite a blow. Keeping your eye out for signs that your system is in trouble is a good way to mitigate any problems that might come up. However, it's not the best way to ensure that your system is in good shape. If you want to keep your air conditioner in good condition for this summer, and the next ten summers beyond, get on a maintenance plan.
Preventive Maintenance
It's never a good idea to take a "wait and see" approach to keeping your air conditioner healthy. Most of the issues that come up with air conditioners don't give off any obvious signs unless they've been allowed to develop for an extended period of time. By the time you notice that your air conditioner is in trouble, it might be too late to prevent a lot of the damage. The best way to prevent problems from damaging your system is to schedule preventive maintenance.
Your technician will closely examine the parts of your air conditioner during a maintenance appointment, identifying any problem areas and repairing them before they have the chance to develop any further. This is quite effective for ensuring that your air conditioner stays in good condition for as long as possible. In fact, air conditioners that receives professional maintenance are up to 40% more energy efficient than those that don't, and 95% less likely to develop serious issues.
Maintenance Plans
In order for preventive maintenance to be effective for your air conditioner, it needs to be scheduled at least once a year. That means that for the entire time that you're using an air conditioner, this should be a regular cost. Any HVAC company worth their salt knows that air conditioning maintenance is both necessary and consistent as far as service goes. That's why most of them, including us, offer maintenance plans. These plans are designed to give you added benefits for scheduling regular maintenance, to incentivize you to keep your AC in good condition. Some of the benefits that our maintenance plan includes are:
Reduce Cooling and Heating Cost up to $200: Not only can you reduce your air conditioner's likelihood of developing issues, but you can lower your monthly bills, as well.
Improve Efficiency 21% on Average: Your air conditioner will absolutely run more efficiently under our preventive care.
Add 1 to 8 years to Equipment Life: The better shape your air conditioner is in, the longer it's likely to last.
Improve Capacity 25%: Your air conditioner will actually be much better at cooling your home, in addition to operating more cheaply.
15% Discount on Repair Service: We want to make sure you have no reason not to schedule preventive service with us. Our discount is a great incentive.
Priority Customer: Since you're part of our maintenance plan, you get priority treatment when it comes time to schedule your appointments.
Touchstone Heating & Air Inc. offers a full range of air conditioning maintenance services in Lake City, FL. Contact us today to sign up for our maintenance plan!