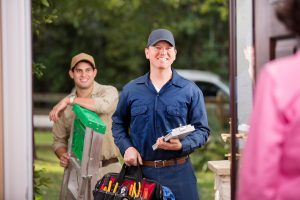 It's October, and even if the weather is still warm, this is when we recommend our customers arrange for their annual heater maintenance in Fort White, FL and throughout North Central Florida.
Unfortunately, people often forget the importance of heating maintenance in a place that gets as warm as Florida, but this is an important service, as we'll explain below.
Why We Recommend Annual Fall Heating Maintenance
Maintenance isn't a "luxury" feature for a heater—it's an essential service that needs to be done each year in order for the heater to work the way it should. Here are the main benefits of keeping current with heating maintenance:
Energy savings: When a heater is regularly maintained, it won't start to suffer from a decline in energy efficiency due to wear and tear. On average, a heater will have improved efficiency by up to 21%, and this can reduce heating costs by up to $200 a year.
Extended equipment life: Reducing the amount of wear on a heater also helps it to last longer. Regular maintenance can add from 1 to 8 years to a heater's service life. Without maintenance, you may end up having to replace your heater before it reaches even half its estimated lifespan.
Improved capacity: Maintenance keeps your heater in top condition so it can do the best job possible heating your home. You can expect improved heating capacity of up to 25%.
Better safety: Although most heating systems aren't inherently dangerous, neglect can eventually cause them to develop potentially hazardous malfunctions. This is especially true for natural gas furnaces. Our maintenance inspections will ensure your heater works as safely as possible.
Reduced repair needs: The majority of repairs that a heating system requires during its service life can be prevented thanks to maintenance. This saves you money, time, and avoids emergency heater breakdowns.
Valid warranty: Most HVAC equipment warranties require routine professional maintenance to keep them valid. When you have regular maintenance, you'll keep this important consumer protection in place.
Fall is the best time to have your heating maintenance done. It gets your heater ready in time for the winter, and it's also a season when our technicians have fewer emergency calls and can find convenient appointments for maintenance.
Join Our Gold Club
The Gold Club is our maintenance agreement plan that makes regular HVAC maintenance even easier and more beneficial. As a member, you'll receive two maintenance tune-ups and inspections each year: your air conditioning system in spring and your heating system in fall.
In addition to the standard benefits of maintenance, you'll also receive special membership benefits: a 20% discount on repairs and accessories, no service call fees (including after-hours and holidays), and priority scheduling so you can jump to the front of our service queue.
Reach out to us today to learn more about the Gold Club and to sign up to schedule your fall heating maintenance.
Call Touchstone Heating and Air 24/7 for exceptional customer service! Serving the communities of North Central Florida since 1998.