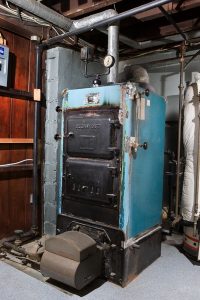 One of the best ways to tell when a heating system is ready for a replacement is basic age. Each heater comes with a manufacturer's estimated service life. Once the system is beyond that age, we advise you to think about replacing it, even if the unit still seems to function well. It doesn't mean you should automatically replace it. But it's time to ask yourself serious questions about the heater's performance so you'll know when to pull the trigger on a new system.
Since it's now fall and you're preparing for cooler weather, it's the right point to address the furnace in your home. If you have a furnace that's older than 15 years (the usual estimated service life for a gas furnace), there are a few important things for you to know.
The Department of Energy recommends a replacement
If your current furnace is more than 15 years old, the US Department of Energy's ENERGY STAR program recommends putting in a new unit that qualifies for the ENERGY STAR label, "which is 15% more efficient than a conventional furnace." So you don't have to take our word for it that a furnace this age is a good candidate for replacement.
A furnace this old may suffer from corrosion
You may not think of corrosion as something that can happen to a furnace. After all, it doesn't use water. But corrosion can also occur because of the reaction of combustion gases with the metal in the furnace's heat exchanger. Corrosion poses a serious danger because it weakens the metal of the heat exchanger and makes it easier for cracks to form. A cracked heat exchanger may allow toxic combustion gases to escape into the air of the house. When a furnace starts to corrode, it almost always needs to be replaced.
This type of corrosion usually only sets in after many years of use (unless the furnace is ventilating poorly, in which case corrosion can strike early), and a furnace that's older than 15 years is at a higher risk of this happening.
Energy efficiency can soon start to suffer
If you have kept your furnace in peak shape with regular heating maintenance, you can expect it to retain about 95% of its energy efficiency rating. But age will eventually start to take its toll—and maintenance will only be able to do so much once a furnace is more than 15 years old. If you have noticed a rise in your heating bills during the last few years that you can't account for, the source is probably an over-the-hill furnace.
A new furnace offers you many benefits
Finally, consider what a new furnace model can do for your house. Even if the aging furnace is still managing the job, a brand-new model can work at superior energy efficiency (especially if you get a condensing furnace) and come with features like multi-stage burners and a variable-speed fan. If you have the budget to put in a better furnace, we recommend taking the plunge so you can start saving money.
To find out more about getting a new furnace in Macclenny, FL or checking on your current one, call our experts.
Call Touchstone Heating & Air Inc 24/7 for exceptional customer service!