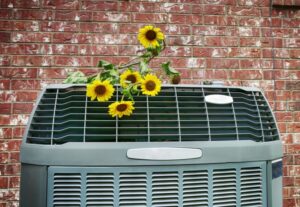 The title of this blog may sound melodramatic. But consider how important your home's air conditioning system is to your comfort during a Florida year. Do you want to have next summer be the one where you abruptly discover that the time to replace your air conditioner was last year? Preparation and planning are key to ensuring uninterrupted comfort and energy-efficient comfort in your home. This post will help with that preparation and planning.
We'll start with a basic but essential question…
How old is your air conditioning system?
If you don't know, it's easy to discover. Look at the information plate on the outside cabinet of the air conditioner and you'll find the manufacture date. A central air conditioning system will last from 10 to 15 years. We recommend people start paying close attention to their AC's performance and energy consumption once it's around 12 years old, and to arrange for a new air conditioner once the AC is more than 15 years old. Although an air conditioner can continue past the 15-year mark, it will be at a high risk of a full breakdown and begin to rapidly lose efficiency.
Do you have an R-22 air conditioner?
R-22 is a type of air conditioning refrigerant that was completely phased out in 2020, making it expensive and sometimes impossible to repair units that use it. The information plate will tell you the type of refrigerant your AC uses. If it's R-22 rather than R-410A, we recommend getting a new AC as soon as possible.
Look over the last five-year history of summer utility bills
When an air conditioner begins to go into an irreversible decline, it will cost more to run, even with regular maintenance. If you look over the past five years of electrical bills during the summer and notice a rise that isn't connected to an increase in electricity costs or increased use (like being home more during 2020), it's a warning the AC may be in the last year of its service life.
Did you need to repair the AC this summer? Last summer? Both?
If your air conditioner is in the upper range of its service life estimate, any repair might be a warning the system is declining. You don't want to sink money into repairs that will only keep the system going for another year. That's money better spent on a new AC installation in Newberry, FL. If you had your AC repaired both this summer and last summer, we'd definitely think seriously about getting a new one.
Are you interested in new AC technology?
One reason to get a new air conditioner is that you'd like to take advantage of some of the advanced technologies now available. For example, new high-efficiency air conditioners can help save significantly on cooling costs, and they also improve performance with more even cooling, fewer temperature fluctuations, and quieter operation. You might want to have zone controls put into your house, and this is also a great opportunity to upgrade your AC to work with these controls.
When you're ready to work with the pros to help with great air conditioning, look to us.
Call Touchstone Heating and Air 24/7 for exceptional customer service! Serving the communities of North Central Florida since 1998.