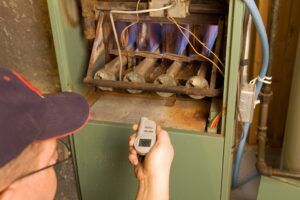 There is a period of time toward the end of your furnace's life when you have to decide between investing in repairs or replacing the entire unit. Sometimes repairs make sense, but when repairs cannot address safety concerns then it is time to replace your old system with a newer and safer model.
Since many heaters can last for upwards of 30 years, there's a very good chance that your older heater may be highly outdated. If so, it's time for a furnace replacement in Lake City, FL. Keep reading and learn more about the reasons that your older furnace may not be safe to operate any longer.
Electrical Concerns
If the furnace in your home is particularly old, then so are the electrical connections. Our team is not always able to upgrade electrical components on your heater without replacing the entire system. If the electrical connections in your home are generally old, the same is probably true for your heater.
Instead of continuing to use an outdated heater, you can get both your electrical connections and heater all upgraded at the same time. When you invest in the latest electrical technology, you ensure that your home and family are both safe and free from unneeded risk when it comes to heating your home.
Gas Concerns
You also want to consider the gas connections that attach to your heater. If they are older, worn down or less secure, then it's a good idea to upgrade your heater. Gas is as big of a concern as electrical problems, if not more of a problem. Gas is colorless and odorless, so detecting the leak can be very difficult.
We encourage you to install carbon monoxide detectors and invest in regular tune-ups to stay ahead of any potential problems, especially gas leaks. If our team completes an inspection and determines that your heater is highly outdated, we will let you know that it's time to begin considering a replacement.
Cracked Heat Exchanger
If you do have a gas heater and the heat exchanger cracks, it is definitely time for a replacement. There are many heater problems that can be fixed, even temporarily. But a cracked heat exchanger is not one of those things. Once the heat exchanger cracks, carbon monoxide can leak out into your home.
Your family could breathe in these dangerous fumes and get sick, plus the leak poses fire hazards. If you notice any damage to your heat exchanger, no matter how small, give our team a call for an inspection. Heat exchanger cracks can never be repaired.
Dust Build-Up
If you wipe down surfaces in your home only to notice a layer of dust on them within a few days, your heater may be to blame. Older heaters are often dirtier for the simple fact that they have been operating for a very long time. Aside from that, heaters from 20 to 30 years ago are nowhere near as efficient as the technology that we have today.
The result can be an elevated amount of dust in your home. You may not mind wiping down surfaces, but a lot of dust is a sign that your heater is not working as well as it could. Take it as a sign that you need to invest in a heater upgrade sooner rather than later.
Call Touchstone Heating and Air 24/7 for exceptional customer service! Serving the communities of North Central Florida since 1998.