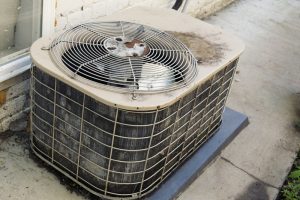 No air conditioning system is "the last AC you'll ever need to buy." No matter how well you maintain your home's cooling system, it will need to be replaced at some time. It's a matter of knowing when: If it be not now, 'tis to come. If it be not to come, it will be now. If it be not now, yet it will come. The readiness is all.
Now Let's See If Your AC Is Ready
How can you know your aging air conditioner is at the replacement stage? Thankfully, ACs give off several signs they're in decline, and there are a few other factors to consider when you're debating about putting a new air conditioner.
Basic Age: So how old is your air conditioner? The average service life of an AC is between 10 to 15 years. An AC may continue to run past 15 years, but the chance that it will fail or suffer from a large drop in efficiency increases. If you don't want to risk your air conditioning system crashing during a blazing hot day, get ahead of the problem with a scheduled replacement. (Fall is a great time for this.)
The AC Uses R-22 Refrigerant: If you have an air conditioner that was installed before 2010, it may use R-22 for refrigerant. This refrigerant blend is being phased out and you won't be able to repair refrigerant leaks after 2020. If you have an R-22 air conditioning system (you'll find the information on the cabinet) we strongly recommend having it replaced at your earliest convenience with a system that uses R-410A—which is more energy efficient anyway.
The AC Costs Too Much to Run: When an air conditioner is coming to the end of its service life, it will start to rapidly lose its energy efficiency rating and raise utility bills. If you've noticed that you're paying much more in summer on your electric bills, the problem may be that it's time to get a new air conditioner.
The AC Needs Too Many Repairs: And this, of course, brings up the question, "How much is too much when it comes to repairs?" More than once a year is too much. A repair that costs more than half the price of a replacement is too much. Cumulative repairs adding up to more than $500 is too much.
Hot Spots in the House: Uneven heating is one of the biggest warning signs of an air conditioner in decline. If you're hearing complaints from people in the house about their rooms not getting cooling, it's time to have a technician look at the AC and see if it's almost done for.
Noisy Operation: When an air conditioner makes a racket (rather than a singular odd noise like hissing or clicking) it means it's so worn down that it's best to have a new one put it. You'll have a better AC and a quieter home. The rest is silence!
When it's time for a new AC, or even just repairs, you can find the right home air conditioning services in Lake City, FL.