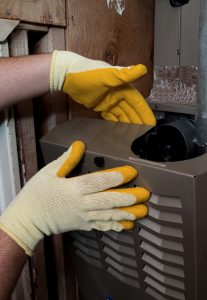 The furnace may be the most common heating system in the country, but it's still got its share of problems. In truth, furnaces only have a lifespan of about 10-15 years, at least if you expect it to run efficiently. Then again, heaters in Florida do not get as much of a workout as they do in other parts of the country, so it's not too surprising to have heaters last longer than expected.
How do you know which is the right choice for your furnace? We want to help point you in the right direction. Think carefully about the condition of your furnace, and follow our advice in the guide below. When you're ready to find out for certain, contact our team and we will give you an honest assessment of your home furnace.
Can It Be Repaired?
Has your heating system suddenly broken down without warning? We have some good news. If your furnace has shown no signs of trouble up until this point, there's likely a simple solution. Sudden breakdowns like these are often due to electrical problems like faulty wiring, a worn-down electrical component, or a broken safety switch.
Your first thought should not be that the furnace needs replacement. When homeowners believe this is the case, they often wait to call in technicians, and this can only allow time for the issue to get worse (and cost more to fix).
Have You Called a Technician?
The average furnace lasts about 10-15 years, but there's simply no way to know when yours will fail without the help of a technician. If you have not yet done so, don't make too many assumptions. There may be a simple fix to your furnace issues. But if it does need replacement, it's better to know sooner rather than later.
Even if you're not using your furnace all that much right now, you may find it breaks down on you when you need it most next winter. In addition, small problems can get worse the longer you wait. When it comes to heating or air conditioning repair or replacement, the sooner the better. If you don't feel certain about your technician's diagnosis, you can always seek out a second opinion!
Are You Experiencing Many Efficiency and Performance Issues?
In general, we recommend replacing your furnace once it starts suffering from frequent repairs or issues with system performance and efficiency. Sometimes a system can be repaired, but it's simply not worth the price tag when the repair may only act as a patch, and the furnace is at risk of shutting down soon anyway. This can even be true for newer furnaces, which may have been improperly sized or installed.
There comes a point when no amount of maintenance will help your system to work the way you need it to. The system is at an increased risk of a breakdown after 10-15 years of service, and when it just isn't functioning as needed, it may be time to move on to a reliable unit.
For replacement or furnace repair in Lake City, FL, contact Touchstone Heating & Air Inc.