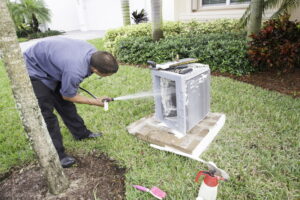 Did you forget to have maintenance done for your home's air conditioning system in the spring? You may think that if you missed that window, you might as well skip it for the rest of the year. After all, it's late summer, and if the air conditioner has already gotten this far…
We're glad we're here to stop that train of thought before you put off AC maintenance for a whole year. It's late summer, but that doesn't mean AC maintenance is a dead issue for the year. What might end up dead is your air conditioner, and far earlier than you expect, if you let maintenance slide. Spring is the best time to have a professional tune-up and inspect your air conditioner because it prepares it for the entire warm season, but if you get it done later it's much better than never.
As Long As You Get It Done Each Year…
There is no "expiration date" for maintenance except to have it done annually. It doesn't need to be done in the spring, although this is when we recommend scheduling it so you'll get the maximum benefits from it, such as energy savings and to head off possible early season troubles.
Your AC is designed to run with annual maintenance, much the same way your car is. Letting maintenance slip interferes with how the air conditioner runs, and you won't receive the performance you expect from the system. Keeping current with annual maintenance helps your AC in the following ways:
It prevents the majority of repairs: Yes, the majority. More than 50% of air conditioning malfunctions happen because of maintenance neglect. If you want to lop off more than half of the AC repair Lake City, FL you might otherwise need, schedule annual maintenance.
It helps the AC live its longest life: When you look at the lifespan estimate of an air conditioning system (usually 10–15 years), what you're seeing is the estimate if the system has proper maintenance. Take maintenance out of the equation, and you can take a couple years off the estimate. Possibly even half the estimate! Maintenance will help you get the best return on your original investment in your AC.
It stops emergency breakdowns: A hot, humid summer day in Florida isn't a fun time to find yourself trapped with a busted AC. Maintenance removes the stress and strain from an air conditioner that can lead to these surprise failures, making it more likely you'll sail through the summer keeping cool.
It keeps costs from rising: The tune-up and cleaning done during annual maintenance will stop the AC from losing energy efficiency in yearly increments. You'll have lower electricity bills each summer.
It keeps the warranty in force: The manufacturer's warranty that comes with your AC protects you from paying for parts that fail because of a factory fault. (Around 2% of air conditioning systems leave the factory with some type of fault.) Skipping maintenance may void the warranty, and this isn't a protection you want to lose!
Call Touchstone Heating and Air Inc 24/7 for exceptional customer service! Our Energy Savings Agreement makes it easy to have your maintenance done each year.