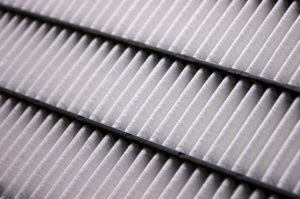 Making it through winter in comfort here in North Central Florida is rarely a problem—at least when it comes to keeping warm. Low temperatures are rare, and heating systems don't have to stretch hard to get the job done.
But there's another aspect to comfort that can become trouble during our winters, and that's the quality of the air in our homes. Because our houses are usually well-sealed against the outdoor air (making it easier to stay warm, even without the heater running), there's little chance of fresh air currents to sweep out the stale indoor air and its pollutants. Your house may end up with stuffy air filled with dust, lint, germs, chemicals, and other unwelcome particles.
However, you have ways to improve your air quality during winter. Our technicians offer indoor air quality services that can make your air quality as pleasant as your indoor temperatures.
Make sure to replace the HVAC filter regularly
The air filter in your HVAC system isn't there specifically to protect your air quality. Its job is to protect the interior of the AC and the heater. However, the filter can harm air quality if left in place for too long and allowed to become congested with dust and debris. We recommend checking on the filter monthly. Hold it up to the light, and if you can't see through the filter, then it's time to put in a new one. This will not only prevent dustier air, it'll make the HVAC system more efficient.
Schedule duct cleaning if you haven't in years
You don't need to have the ductwork in your house cleaned annually (and any door-to-door salesman who tells you differently is trying to scam you). However, leaving the ducts for 3 to 5 years without a professional cleaning allows dust and lint to accumulate along the duct walls and turn into a reservoir for numerous airborne pollutants. As soon as the blower fan turns on each time, it will blow out clouds of dust and other particles. For great duct cleaning in Gainesville, FL, schedule the work with our experts. We'll do a thorough job.
Take some simple precautions to keep pollutants from the air
These are basic steps that will limit the number of pollutants inside your home to begin with:
Vacuum regularly and empty the dust collector outside.
Brush pets outdoors.
Act fast to have plumbing leaks fixed to prevent mold and mildew.
Store chemical products with high amounts of VOCs (volatile organic compounds) in the garage or an outdoor shed.
Brush off your clothing before entering the house.
Install air purifiers and air filters
These are special indoor air quality systems that require the work of professionals to install. The right combination of mechanical filters and electronic air purifiers can remove up to 99.98% of the unwanted particles in your house. UV air purifiers are particularly helpful during the winter, since they zap germs, viruses, and bacteria that can otherwise spread quickly and increase illnesses in your household. Our technicians install all the best types of air filtration and purification systems.
[(site_name)] has served the communities of North Central Florida since 1998. Schedule service with our team today.