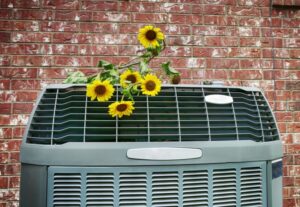 If you're shopping around for a new air conditioner this summer, you may be considering a heat pump system. This type of air conditioner is great because it also offers heating all in the same unit. That means you don't have to have a separate air conditioner and heater.
Heat pumps work great here in Florida, and you can keep reading to learn more about why. Then give our team a call for AC replacement in Newberry, FL. Whether you end up choosing a heat pump or other type of air conditioning system, our team can help with all of your AC needs.
How Does a Heat Pump Work?
You may have separate air conditioning and heating systems both connected to your thermostat. You flip a switch on your thermostat and one system shuts off while the other one turns on. A heat pump is different in that the exact same components offering cooling in the summer also offer heating in the winter.
During the summer, a heat pump removes heat from the air as it filters through the system, releasing heat and humidity outside and blowing cool air back into your home. In the winter, it does the opposite. It brings in heat from outside to warm the air in your home. That's right, even when it is very cold outside, your heat pump can still draw some heat from the air and transfer it inside your home. Unlike other systems, your heat pump is not creating hot or cold. Instead, it is simply transferring energy from one place to another.
Energy Efficiency
Since your heat pump is simply transferring energy, it is a more energy-efficient option than other types of air conditioners. When you consider how hot it gets here in Florida, that's a huge benefit. Your air conditioner is working around the clock without a break to keep your home cool. Energy savings can add up quickly on your monthly utility bills, potentially saving you hundreds of dollars per year.
Environmental Impact
A heat pump is also better for the environment than other AC options. During the winter, heating doesn't require a combustion process and so it doesn't release carbon emissions into the air like other heaters. When it comes to cooling, older heat pumps may still use outdated refrigerant. But new heat pumps use the most environmentally friendly refrigerant that won't harm our earth's ozone layer. You can invest in a heat pump knowing that you're making a smart choice for the environment.
Reducing Humidity
All air conditioners remove some humidity from the air as part of their cooling function. But heat pumps are exceptionally good at reducing humidity levels, which is a huge benefit here in Florida. Our humidity levels can get unbearably high in the summer. This is bad for your air conditioner because humidity can make the air feel hotter than it really is. As a result, you set your thermostat lower and your AC begins working harder to cool your home to your expectations. But heat pumps are very efficient at removing humidity. Your home will feel cooler as a result.
Call Touchstone Heating and Air 24/7 for exceptional customer service! Serving the communities of North Central Florida since 1998.