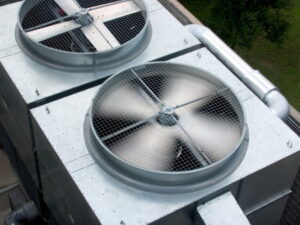 Along with our great services for homeowners throughout North Central Florida, we also provide service for light commercial HVAC in Alachua, FL, and the rest of our service area. (Light commercial means systems 25 tons and under.) As local business owners ourselves, we understand the difficulties a company can face when their cooling systems give out in the middle of summer. You may depend on the AC to keep customers, clients, and employees happy, or the AC may do a critical job cooling down equipment. No matter how you use your commercial air conditioning, when it fails you'll need our experts on the job to repair it. 
You want to catch potential AC problems early, before they turn into a full system breakdown leaving your facility without cooling. This presents difficulties, because AC equipment usually sits on the roof of the building. But you still can watch for these warning signs that will tell you to call our team for repair service.
Changes in humidity
An air conditioner has dehumidification properties, and if it starts to lose its cooling capacity, one of the first signs is a rise in humidity around the building. If you have a dehumidifier for your building, the problem may stem from it, but we recommend calling us to check on both systems.
Uneven cooling
Are you hearing complaints from some parts of your facility about the heat, even when the AC is on? If the problem doesn't seem to come from the room thermostats (if you have a zoning system), then it might be warning you the system is starting to lose its cooling power and the most distant rooms along the ventilation system are getting less cool air. 
Strange sounds from the vents
Odd noises are one of the most common warning signs of an air conditioner that needs repairs. But since the AC units are up on the roof, you'll have to listen for these warning sounds coming down through the vents. Cautionary noises include banging, mechanical shrieking, grinding, and rattling. 
Odors from the vents
Strange sounds aren't the only warnings of AC repair that can come through the vents. If unusual odors begin to infiltrate the workspace and the source is the vents, it's a reason to have technicians look at the AC. Acrid odors often mean motors in the air conditioner are burning out. Moldy and musty odors indicate mold has started to develop in the air conditioner, possibly due to a problem with the condensate drainage system—this is unfortunately common in Florida's humidity.
Rising utility bills
You probably keep a close watch on the finances of your business. If you see that your electricity costs have started to rise higher than usual for summer, and you can't account for it with increased use, then it may indicate something wrong with the AC that will need repairs. 
No matter what your concern is with your light commercial air conditioning system, we have the technicians who can get to the bottom of it and have it fixed so you can get back to work.
Call Touchstone Heating and Air Inc 24/7 for exceptional customer service!